Form Confirmation Page & Redirects
We've added two options to complement the default confirmation page that is displayed after a form is submitted. You can now:
Redirect users to the Return URL of the form
Show a detailed confirmation page with print, PDF and email features.
Redirection
Select the redirect option in the Form Details screen of the form builder to automatically redirect users to the Return URL of the form instead of showing them the confirmation page. Redirects have been supported for a while, but could not be set up via the form builder.
This feature allows you, for example, to redirect users to a download URL of your site after they've entered their information.
Note: Do not choose this option if your form includes a payment, as users would be redirected instead of being led the page where they are asked to make the payment.
Detailed Form Confirmation Page
The detailed confirmation page shows a summary of the data submitted and allows form users to:
Print a copy of the data submitted
Download a web receipt in PDF format with the same information
Have a copy of the form data emailed to them.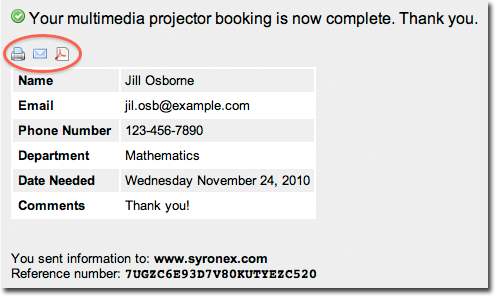 Use the detailed confirmation page whenever you want users to be able to keep a copy/proof of the data they've submitted. Feel free to try this demo. This feature is only available with Business accounts.
Note: PDF receipts won't display correctly in non-European languages (Russian, Chinese,…) unless the language is set explicitly with the lang parameter.
Posted by FormSmarts on Tuesday, October 12, 2010 at 9:32 am in form builder.
Permalink | Comment
Tags: business, email notification, embed, form results, form submission, form to pdf, payment integration, paypal, pro
Leave a Reply